WFL M 40 40 G Millturn
CNC Turning- and Milling Center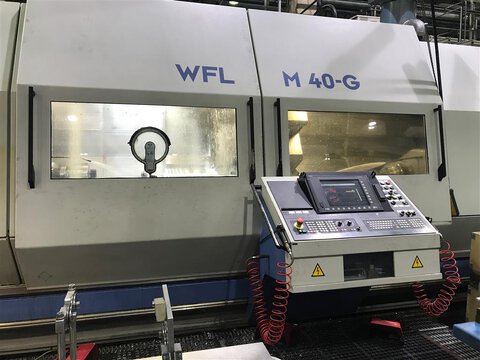 This machine tool was already sold. Please contact us and we will try to get a similar machine tool for you.
Manufacturer: WFL
Control Name: SIEMENS 840 D
Control Type: CNC
Metal Processing > Lathes > CNC Turning- and Milling Center
Machine with SIEMENS 840 D CNC control
left and right hand spindle with 3-jaw power chuck SMW KNC 3-N 315
C-axis 0,001° indexing for both spindles
top turning, boring and milling unit with Y-axis -100/+150 mm and B-axis -110/+110°
tool changer for 100 tools
botton slide with 12-fold revolving head and steady rest SMW
M+H workpiece measuring device
coolant device, chipy conveyor
Didn't find what you wanted?
Other machines of the same type (CNC Turning- and Milling Center)